For blank-fed envelope making machines, blank sheets are cut by Envelope paper punching machines, Eccentric cutters. These machines use some types of cutting dies, steel cutting rules.
FUP-S2, FUP-T2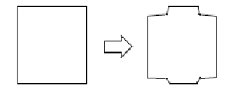 Window cutting and patching to a pre-punched blank is done before making envelope process, for all kinds of envelopes such as open-end and open-side.
FW-25, FWC-S2


FG/2R machine applies arabic(remoistenable)gum to a envelope flap. FFDW/G-3 machine is provided with an arabic seal gummer and a heat-drier.
FG/2R, FFDW/G-3


FF series and NRNH series machines can produce quality open-end envelopes. FFDW series machines can produce diamond and wallet shape envelopes.
FF121, FF221, FF252, FF352, FFDW-3CL, FFDW/G-3, FRE/NRNH Series


Pressure sensitive gumming, One-touch seal gumming, Self-seal gumming is done on a seal flap or on a body of a completed envelope.
FGA, FGA-2, FGSHT